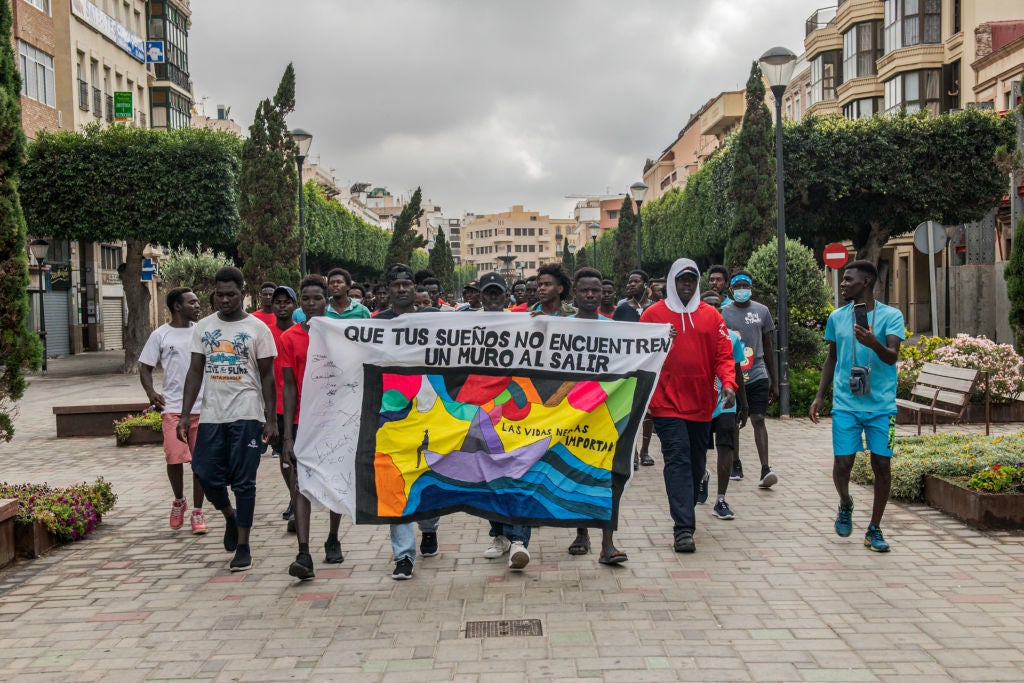 Protestors in Melilla in July 2022, highlighting violence towards immigrants at the city's border with Morocco. (Photo by Israel Fuguemann/SOPA Images/LightRocket via Getty Images)
The coastal cities of Ceuta and Melilla are both located within Morocco yet have been Spanish territories since the 17th and 15th centuries, respectively, making them home to the only European land borders on the continent of Africa. 
The government of Morocco has repeatedly contested Spain's sovereignty over the territories, though they were initially designated as Spanish and not a vestige of colonialism to be relinquished when Morocco's independence was recognised in 1956. It was in 1956 that both France and Spain gave up their Protectorates in Morocco which they had had since the signing of the Treaty of Fez in 1912.
Spain highlights that the territories of Ceuta and Melilla, which also include three uninhabited islets (the Alhucemas Islands, the rock of Vélez de la Gomera and the Perejil Island) had preceded the creation of the Protectorates. Instead they date from the time of the Reconquista, the centuries-long series of battles by Christian states (today's Portugal and Spain) to expel the Muslims from the Iberian Peninsula. 
In fact, Ceuta was conquered by the Portuguese first, in 1415, but then ceded to Spain in 1668 after the Iberian Union (formed by the Kingdoms of Aragon and Castille in today's Spain and the Kingdom of Portugal) ended.
Melilla was occupied and conquered by Spain in 1497. 
That is one of Spain's main arguments for its ongoing sovereignty over the territories, pointing out that its rule over Ceuta and Melilla preceded its rule over some regions in mainland Spain. This includes parts of the north of the country, for example, but also cities in southern Spain such as Granada, the last Muslim enclave, which was conquered at roughly the same time (1492).
Conversely, Morocco argues that Spain's territories within its kingdom are a remnant of colonialism and should be given back. However, the UN does not include these exclaves in its list of non-self-governing territories, defined as territories "whose people have not yet attained a full measure of self-government". Both Ceuta and Melilla have a similar semi-autonomous status as that enjoyed by all other regions of mainland Spain. 
That is another of Spain's main arguments, that these territories are different from Gibraltar, a British territory on the Spanish mainland. Gibraltar is included in the UN's list, as are other overseas British territories such as the Falkland Islands. 
Why do Ceuta and Melilla matter so much?
Similarly to Gibraltar, Ceuta and Melilla's historic importance stems from their strategic geographic location. Ceuta sits right on the Strait of Gibraltar, directly across the sea from the British territory.
In fact, both cities have served over the years as military and trade enclaves for Spain, linking Africa to Europe, and with sizeable military populations. Ceuta expands over 20 square kilometres and has a population of over 82,500, while Melilla's size is 12 square kilometres and its population is about 83,190. 
The two cities both lay at the bottom of Spain's regions socioeconomically. They have the lowest levels of GDP per capita, as well as the highest levels of unemployment. 
GlobalData's FDI Projects Database shows that the cities of Ceuta and Melilla recorded the lowest number of inward foreign direct investment projects of all Spanish autonomous regions between 2019 and 2021. Ceuta recorded just two projects and Melilla one. 
On 18 October 2022, the Spanish government approved a socioeconomic development plan for Ceuta and Melilla, including an investment of over €711m to flow into the cities between 2023 and 2026. 
The announcement pointed at the territories' "singular characteristics" that call for differentiated attention due to the sum of difficulties associated with economic, social and demographic factors, as well as their location outside mainland Spain.
Speaking to Investment Monitor about the cities' current situation, Lorena Stella Martini, advocacy and communication assistant at the European Council on Foreign Relations, explained that "the status of Ceuta and Melilla does represent a possible trigger for further diplomatic standoffs between Morocco and Spain. After a recent period of tensions, Madrid and Rabat have refastened their ties following the Spanish declaration of support for the Moroccan autonomy plan for Western Sahara".
One of the arguably most notorious diplomatic clashes between Spain and Morocco in recent times started in April 2021, when Spain allowed the leader of the pro-independence movement for Western Sahara, Brahim Ghali, to receive medical treatment for Covid-19 at a Spanish hospital. To this, Morocco responded by loosening its border controls in Ceuta, which translated into the unauthorised crossing of thousands of migrants.
Now, as Stella Martini explained, Spain has announced its support of Morocco's plans for the Western Sahara.
"Since then, the two parties have also announced the reopening of Melilla customs office in 2023 and the plan for creating one in Ceuta. This is an important step in the eyes of Madrid, because it entails that Rabat does recognize at least the existence of commercial borders with the two exclaves," adds Stella Martini.  
"Nevertheless, this rapprochement does not imply that Morocco has swapped Spanish support on the Moroccan position over Western Sahara for an end of its long-standing claims over Ceuta and Melilla, and it certainly does not ensure that, should tensions between the two parties rise again, the issue of Ceuta and Melilla would not be at the very centre of the dispute," she concludes.